The wagon full of Pamcakes is an evil thing indeed. It is a spamming and unauthorized brainwashing company solely created for the benefit of money. You see, after The wagon moved to the Coches in 1984, it's been advertising and selling horrible products. It does not appear to cease, despite the fact that half of the thing the company does are illegal.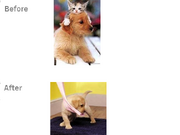 Ad blocker interference detected!
Wikia is a free-to-use site that makes money from advertising. We have a modified experience for viewers using ad blockers

Wikia is not accessible if you've made further modifications. Remove the custom ad blocker rule(s) and the page will load as expected.